Tonikaku Kawaii is an anime television series inspired by Kenjiro Hata's manga of the same name. It was first announced on March 4, 2020 and is produced by Seven Arcs. The series premiered on October 2, 2020 on Tokyo MX. Crunchyroll is streaming the anime series under the name TONIKAWA: Over The Moon For You.
Its first season ran for 12 episodes from October to December 2020. An English dub premiered on November 20, 2020. In late 2021, it was announced that the series will have a second season and that it will premiere sometime in July 2022.
Synopsis
Serialized in Shogakukan's Weekly Shōnen Sunday, Tonikaku Kawaii follows a protagonist whose name is written with the characters for "Hoshizora" ("Starry Sky" in Japanese), but whose name is pronounced as "Nasa". On the day of his high school entrance exams, Nasa encounters a beautiful girl named Tsukasa. For Nasa, it feels like destiny is finally calling out to him that he will have a girlfriend, but things take a turn for the worse when Nasa is hit by a truck. source: Crunchyroll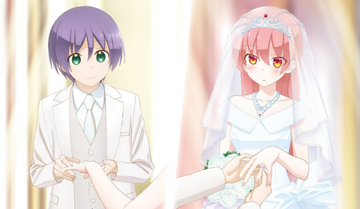 Trailers
Main Cast
Staff
The series was produced by Seven Arcs and directed by Hiroshi Ikehata, with Kazuho Hyodo writing the scripts, Masakatsu Sasaki designing the characters, and Endō composing the music.
Director: Hiroshi Ikehata (博史, 1979)
Series Composition: Kazuho Hyoudou
Character Design: Masakatsu Sasaki
Prop Design: Gouichi Iwahata
Colour Design: Ritsuko Utagawa
Art Director: Yukihiro Shibutani
Sound Director: Satoshi Motoyama
Music: Endou
Theme songs
Akari Kitō performs the series' opening theme song "Koi no Uta (feat. Tsukasa Tsukuyomi)", while KanoeRana performs the series' ending theme song "Tsuki to Hoshizora".
Theme Song Arrangement: Yunomi (OP), Endō (ED)
Theme Song Composition: Yunomi (OP). Endō (ED)
Theme Song Lyrics: Yunomi (OP), Endō (ED)
Opening theme song: Koi no Uta
Ending them song: Tsuki to Hoshizora
Studio
Seven Arcs Co ( 株式会社セブン・アークス) is a Japanese anime production company and former studio, established on May 31, 2002, by former Pierrot staff. The studio made its first animated television series, Magical Girl Lyrical Nanoha, in 2004. Since then, the company has produced a number of other animated television series and movies.
Useful links
Gallery